Trade and detention
The sale and possession of Hermann's tortoises from the wild is prohibited.
It is strictly forbidden to sell a Hermann's tortoise from the wild, or even disrupt.

The sale and purchase of tortoises from natural populations are crimes (the penalty is six months imprisonment and a fine of € 15,000).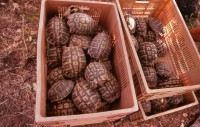 Under Appendix A of Regulation No 338/97 which implements CITES in the European Union.
Commercial use of Hermann tortoises is prohibited, unless an exception in the form of an
intra-Community certificate
.
Among the conditions for granting this certificate include:
- Evidence that the breeding stock was established in accordance with the regulations in force at the time of acquisition
- The fact that physical barriers strictly separate the breeding wild animals.

Under both arrested on 10 August 2004, the detention of Hermann's tortoises by individuals is subject to official authorization only possible for individuals born in captivity:
- Up to 6 specimens (excluding juveniles): Just a simple administrative authorization. It is a breeding permit approval* required from holding one adult individual.
- Beyond six specimens (excluding juveniles) a certificate of competency* and permission to open are necessary because we consider this to be a breeding
- Adult individuals must be identified by an electronic transponder (microchip) implanted by a veterinarian
- A record of animal movements must be kept (inputs, outputs, births, deaths, ...).
* These documents may be obtained at the prefecture, from the
Direction Départementale de la Protection des Populations
(
DDPP
) or from the link below.