Second phase of work to improve the habitat of the Hermann tortoise on the site of the Conservatoire du littoral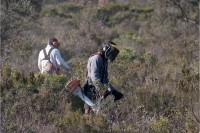 February 2013
A first phase of openings habitat took place during the autumn-winter 2011-2012 on the property Conservatoire du Littoral in Plaine des Maures. These openings mosaic made ​​on a surface of 118 hectares followed this year by opening the second stage started in February 2013.
These openings environments mosaic are made this year on nearly 33ha and will improve the habitat structure of the Hermann's tortoise through said manual clearings (made ​​using brushcutters wound).
The structural pattern mosaic of vegetation optimize the interfaces between open circles and closed circles. It is very important for the daily or seasonal life cycle of the species. In total, more than 150 hectares of bush have been slashing into the scheme on the Conservatoire du Littoral site in Plaine des Maures through the LIFE program.