Nature Festival in Aix-en-Provence: The Life project successfully represented!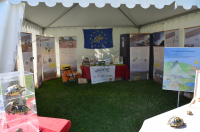 Du 23/05/2013 au 25/05/2013
June 2013
The results of three days of attendance at the stand of Life program at the Nature Festival of Aix is very positive: nearly 600 school sensitized on Thursday 23 and Friday May 24 and more than 500 people of all ages Saturday, May 25.
From 23 to 25 May 2013, the Hermann's tortoise was represented at the 2013 edition of the nature festival in Aix-en-Provence (Park St. Mitre), whose theme this year was "Little Beasts & Company."
Visitors were able to see the exhibition "The Hermann's tortoise, a wildlife species to preserve" conducted for the European Hermann's tortoise program Life+. Animations were organized on this occasion by the ARPE and SOPTOM - Tortoise Village, two partners of Life project. Note the presence Saturday of a third partner in the Life project: CEN PACA with documentation on the Hermann's tortoise and insects.